Creativity in the Time of Covid
Saturday, May 16, 2020
•
22 Iyar 5780
7:00 PM - 8:00 PM
We are happy to offer this program free of charge in these challenging times and hope you enjoy it!
Any contribution to support our efforts is greatly appreciated.
A portion of the proceeds will go toward COVID relief.
Donate here.
Join us for a star-studded Saturday Night program!
Featuring two-time Emmy Winner & Comedian Judy Gold, Oscar Winner Elinor Burkett,
Tony Winner Jonathan Demar, Child Actor Alyssa Marvin, and Movie Producer Jess Weiss.
Special appearance by James Beard Award-Winning Chef, Michael Solomonov
and a surprise video from the Platt Brothers!
Moderated by Brandon Schuster, Marketing Executive and Temple Beth El member
Watch on our website or on Facebook Live.
About the Panelists:
Judy Gold has had stand-up specials on HBO, Comedy Central and LOGO. She has written and starred in two critically acclaimed, Off-Broadway hit shows: The Judy Show – My Life as a Sitcom (Outer Critics Circle Nomination), and 25 Questions for a Jewish Mother (GLAAD Media Award – Outstanding NY Theater, Drama Desk Nomination – Actor). Judy received rave reviews as Gremio in The Public Theater's all female production of The Taming of The Shrew for Shakespeare in the Park. She also co-starred in Off-Broadway's Clinton! The Musical, and Disasater! The Musical. Judy recently guest starred on CBS' Madame Secretary and has a recurring role on the upcoming season of FX's Better Things. She has also had recurring roles Netflix's Friends from College and TBS' Search Party and appeared on the Showtime series I'm Dying Up Here. Judy was featured in Woody Allen's series Crisis in Six Scenes on Amazon, and also on the hit web-series The Other F Word on Amazon Prime. She has also appeared on The Late Show with Stephen Colbert and is a regular on Comedy Central's new series This Week at The Comedy Cellar. Other more recent TV appearances include guest-starring roles on the reboot of Murphy Brown, Broad City, Louie, The Unbreakable Kimmy Schmidt among others. From 1999-2010, Judy was the host of HBO's At the Multiplex with Judy Gold. Judy also won two Emmy awards for writing and producing The Rosie O'Donnell Show.
Judy has made numerous appearances on The Wendy Williams Show, The View, The Today Show, and The Steve Harvey Show. She often pops up on The Food Network, but please do not mention Chopped All Stars to her, or Rachel vs. Guy for that matter. Judy Gold is the author of YES I CAN SAY THAT – When They Come for the Comedians We're All in Trouble, forthcoming from Dey Street Books. She has written for The New York Times, Huffington Post, CNN.com. She is also a talking head on MSNBC, CNN and anywhere else that'll have her. She is the host of the hit podcast, Kill Me Now, on iTunes. You can find her at JudyGold.com or follow her at @jewdygold on Twitter & Instagram. Judy's new comedy album, Conduct Unbecoming drops this January and her previous albums, Kill Me Now and Judith's Roommate Had a Baby are available wherever you get your music.
---
Jonathan Demar is a Tony-winning producer and actor who has worked on various shows on and off-Broadway.
Broadway: Hadestown (Tony Award), Be More Chill, Love Letters with Mia Farrow and Brian Dennehy and The Velocity of Autumn starring Estelle Parsons and Stephen Spinella.
UK/West End: Be More Chill (The Other Palace), 9 to 5 (Savoy Theater and UK tour), Amelie (UK tour), and as part of Seaview Productions on the Olivier Winning Revival of Gypsy starring Imelda Staunton (Savoy Theatre).
Other U.S.: John Leguizamo's Latin History for Morons, John Wulp's The Saintliness of Margery Kempe (Duke on 42nd Street), Be More Chill (Pershing Square Signature Theater) and Church & State (New World Stages).
Jonathan's production company Dynamic Elevations symbolises his mission of producing theater to help change the conversation, inspire and empower audiences for many years to come. B.A. Emory University.
---
Elinor Burkett is an old-fashioned storyteller with unwavering faith in the power of well-wrought tales, which she's been telling from Cuba to Mongolia and Kyrgyzstan to Zimbabwe as a historian and documentary filmmaker, a reporter for the Miami Herald, in nine books of nonfiction,and scores of articles in America's leading magazines, as she tries to change the world, one story at a time. She is particuarly drawn to richly textured tales that celebrate the forgotten, that take viewers and readers inside the realities of people they never really notice, perhaps subconsciously refuse to notice. She won an Oscar for best short documentary for Music by Prudence; she has received awards from the National Press Club, Penney-Missouri and the New York Newswomen, as well as grants from the Eastman Fund, the National Endowment for theHumanities, the Ford Foundation, and the American Council of Learned Societies. Twicea senior Fulbright Scholar, she has lived or worked in 13 countries and currently divides her time between homes in Zimbabwe and upstate New York.
---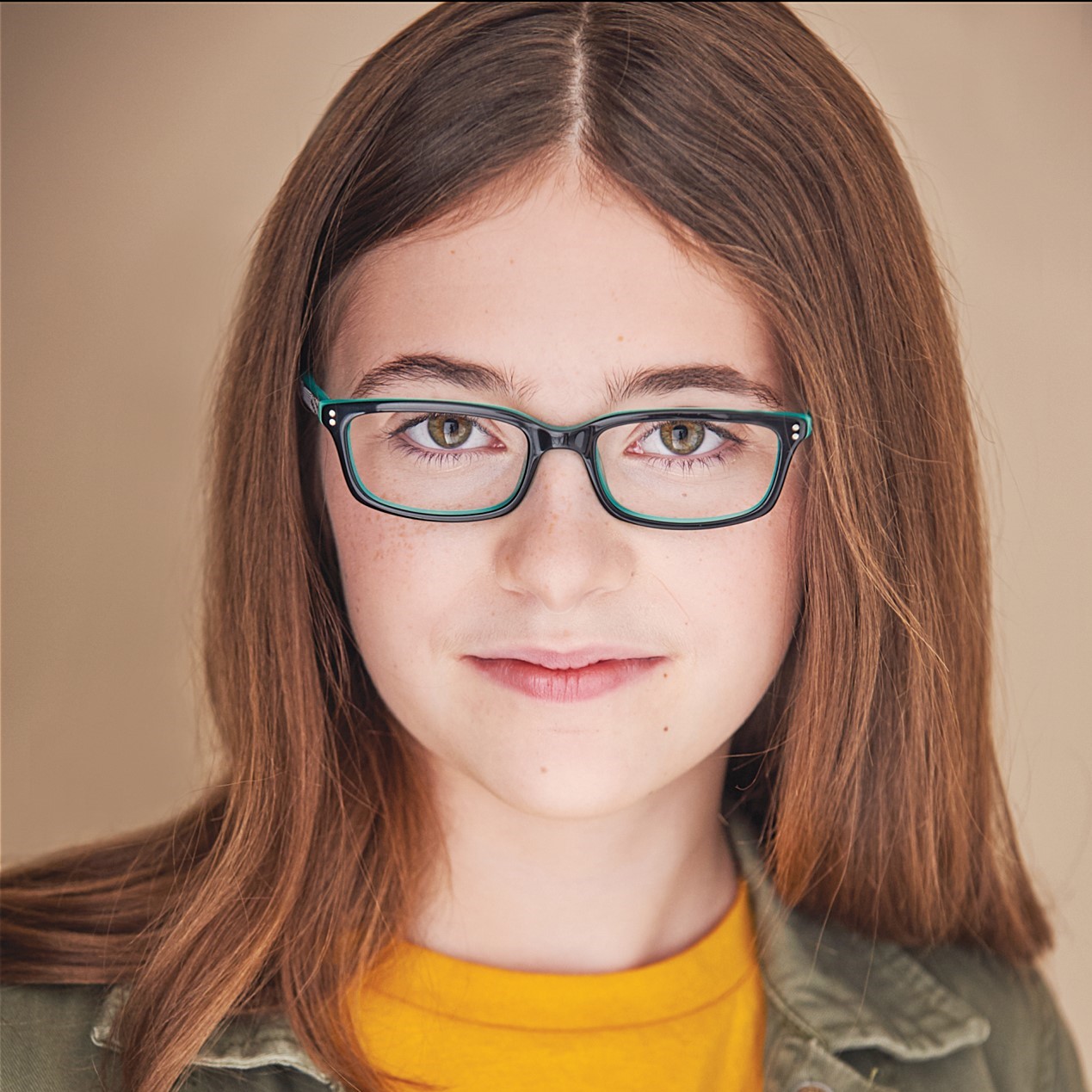 Alyssa Emily Marvin is a New York-based 11 year old actress, singer and dancer. She played Marcy in the First National Tour of the musical School of Rock, performing across the United States and Canada in more than 45 cities over 15 months. Alyssa first appeared on a professional stage at just 6 years old when she made her off-Broadway debut as Kirstie in the 25th Anniversary Production of Number the Stars at the Davenport Theatre. Since then she has performed in many other productions, including as Molly, the youngest orphan, in the International Tour of Annie directed by Martin Charnin. Alyssa has appeared on several television shows, including A Crime to Remember, Mysteries at the Museum and I am Homicide. She also has performed in a number of short films, including The Last of Her, for which she won a film festival award, and as Younger Jane in the Twilight Saga Stories short film Consumed. Alyssa's commercial credits include promotions for Microsoft, BarkBox and the iconic Rink at Rockefeller Center. When not performing, you can often find Alyssa practicing her circus and magic skills, playing her ukulele, and spending time with her dog. She is an avid reader (her favorite types of books are fantasy), loves to write her own scripts and stories, enjoys learning about space and astronomy and is a huge animal lover. Alyssa also enjoys keeping active by dancing, swimming, diving, horseback riding, ice skating and running. She is a daredevil who loves extreme sports such as zip-lining, adventure courses, and climbing, as well as visiting amusement parks to ride the biggest coasters!
---
Jess Weiss is a New York-based producer, with over ten years of production experience, in short and feature films, fiction and documentary, commercials, theatre, immersive, and live events. Born in Rio de Janeiro, Jess has produced projects internationally in South America and Europe, and her films have screened in festivals worldwide such as the Tribeca Film Festival, Palm Springs International Film Festival as well as the Festival de Cannes. Jess has worked with stars Daniel Radcliffe, Jason Biggs, Patrick Stewart, Marilyn Manson & Academy Award nominee Alfre Woodard, to name a few. Her projects often focus on minorities stories and she's passionate about bringing representation to the big screen.
---
Mike Solomonov, one half of the nationally beloved, trailblazing Philadelphia hospitality group CookNSolo. Together, they have been awarded two James Beard Foundation Awards, with Mike awarded two additional Beard Awards for his work as Chef of Zahav, including Best Chef 2017. Zahav, their pioneering Israeli restaurant, put the food of Israel on the map and in 2019 became the first Israeli and first Philadelphia restaurant to win James Beards Outstanding Restaurant Award. The duo have co-authored three highly acclaimed cookbooks — Zahav: A World of Israeli Cooking, Federal Donuts: The (Partially) True Spectacular Story, and Israeli Soul: Easy, Essential, Delicious. In addition to Zahav, their restaurants are Dizengoff – an authentic Israeli-style hummusiya; Abe Fisher – serving contemporary takes on old-world Ashkenazi Jewish cooking; Goldie – a vegan and Kosher falafel shop; and K'Far – an Israeli bakery and all-day cafe. Along with their three partners, they also own Federal Donuts – the hometown hero donut, fried chicken, and coffee shop. In 2018, Zahav was recognized by Food & Wine Magazine as one of "The 40 Most Important Restaurants of the Past 40 Years".
About the Moderator
Brandon Schuster is a New York-based marketing executive. He built up his career at some of the top agencies in the world - McCann Worldgroup and Ketchum - before landing at The Writer, which is the world's leading brand language consultancy firm. Over the years, he's worked with top clients across all different industries, such as: American Express, Goldman Sachs, General Motors, MGM Resorts, Anheuser-Busch, Nivea, and AstraZeneca. Brandon is also a guest lecturer at Columbia University and his alma mater, the University of South Florida.
Brandon was born and raised in Boca Raton. Having attended pre-school, his Bar Mitzvah, and working at the Sunday School throughout high school, he has always considered Temple Beth El as his second home. During his college years, he received the Genshaft-Greenbaum Passport Scholarship to study abroad at the University of Haifa and became the President of USF Hillel, helping transform the struggling Hillel into one of the strongest in the country. He remains very active in Jewish life in NYC, having been a Moishe House resident for the past three years. He's also a huge lover and supporter of all things related to the Arts. In his spare time, he focuses on his screenplay writing and travel photography, which has been published by the likes Lonely Planet, Tastemade Travel, and Centro Di.
Watch on our website or on Facebook Live.
Share Print Save To My Calendar
Thu, March 30 2023
8 Nisan 5783
Zmanim
Alot Hashachar
6:05am
Earliest Tallit
6:32am
Netz (Sunrise)
7:14am
Latest Shema
10:19am
Zman Tefillah
11:21am
Chatzot (Midday)
1:25pm
Mincha Gedola
1:56pm
Mincha Ketana
5:02pm
Plag HaMincha
6:19pm
Shkiah (Sunset)
7:37pm
Tzeit Hakochavim
8:11pm
More >>
Thu, March 30 2023 8 Nisan 5783